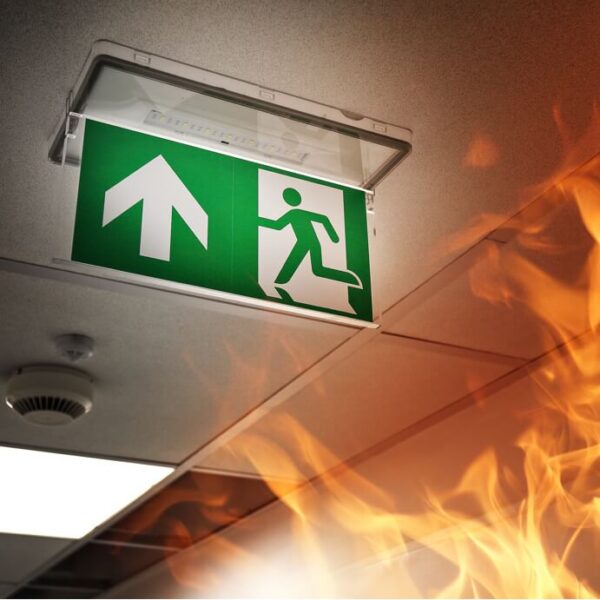 27th March 2023
The Importance of an Emergency Evacuation Plan
The need for emergency evacuation can happen at any time. While you can not know when an emergency may arise, there are steps you can take to ensure you are prepared. There are a number of events which can instigate an evacuation including fires, floods, chemical spills, natural disasters and social unrest. It is important to be prepared for any situation to ensure the safety of your employees and visitors. It is not the responsibility of the emergency services to do this for you.
Preparing for an emergency evacuation
Having a good evacuation strategy in place from the outset is the best preparation you can have to deal with an unforeseen disaster. A clearly defined plan will provide your employees and visitors with the best possible tools required for a safe exit from the building.
Such situations tend to lead to panic, which in turn results in disorganisation, disorientation and further problems. Having a clear evacuation plan can help ensure employees and visitors remain calm. Your plan should include:
An established route and assembly area
Equipment training
Practice drills
Visual communications (signs and labels to clearly mark exits and emergency equipment)
What are my responsibilities as an employer?
You have a legal responsibility to provide your workers with information about the risks in their workplace and how they are protected, and also instruct and train them on how to deal with such risks.
Fire safety is an integral business consideration. It is legally required under The Regulatory Reform Fire Safety Order 2005 that all organisations in England and Wales must provide appropriate accommodations to ensure everyone can exit a building safely.
What are PEEPs?
As part of your evacuation preparation, you may be required to create Personal Emergency Evacuation Plans (PEEPs). They are used to record how individuals will be evacuated in an emergency. PEEPs are particularly important to those with mobility and/or sensory impairments.
Each PEEP must consider the following aspects:
The individual person
Their needs
The building
It should also provide detailed information on the planned movements of the individual during the evacuation. Some adaptation to building and evacuation equipment may be necessary to reduce an individual's need for personal assistance.
What solutions are available?
In order to conduct successful evacuations, procedures must run as efficiently as possible. This includes having the appropriate equipment and trained staff.
An evacuation chair is a secure seat designed to move individuals with mobility issues during an emergency. We provide training courses to ensure the safe use of an evacuation chair.
Our Evacuation Chair – Train the Trainer course is a fully compliant comprehensive 4-hour course which trains participants on how to correctly use an evacuation chair and how to confidently train others on its proper use.
Our Evacuation Chair – Train the Operator course trains participants on the theory of the specific make and model of your own equipment and how to correctly use an evacuation chair in an emergency situation.
Evacuation slides/pads are designed to slide on virtually any internal flooring easily and are robust enough to move over the external ground. They allow for vertical evacuation, meaning individuals can be transported up and down stairs. This equipment has the benefit of also being able to move injured people to a place of safety.
Our Evacuation Pad/Slide – Train the Operator course is a comprehensive training course that trains participants on how to correctly use the equipment.
Our Evacuation Pad/Slide – Train the Trainer course is a 3-hour certified course that trains staff in emergency evacuation techniques and theory when using pads or slides.
It is important to remember that emergency evacuation plans are required by law. Aside from the main goal of keeping all employees and visitors safe, they also safeguard against preventable accidents happening in the workplace which can be costly for employers.
Get in touch for more information on the importance of emergency evacuation plans and the proper use of equipment.