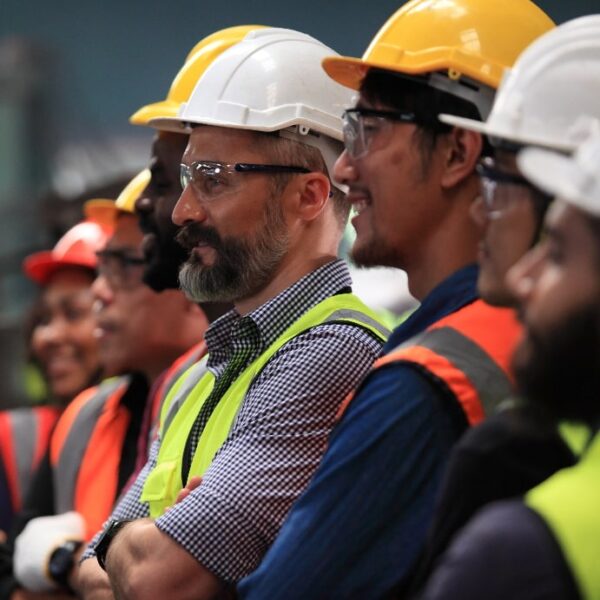 18th January 2023
Health and Safety at Work – What can you do to Make a Difference?
Whether your business is situated in an office, cafe, building site or other premises, health and safety must be a key priority. The recent release of health and safety statistics from the Health & Safety Executive (HSE) for Great Britain indicates that efforts must be increased.
Here, we outline what these statistics mean for you as a business owner and how you can act now to safeguard staff and reduce the risk of preventable accidents, injuries and even fatalities.
Can you improve mental health in the workplace?
Work-related stress, depression and anxiety have been flagged as key areas for improvement. National statistics suggest 914,000 workers suffered from new or long-standing work-related mental health issues in 2021/22.
The World Health Organisation considers mental health a major, growing concern in the workplace and the general population. The effects of the coronavirus pandemic have been a major contributory factor to the rise in mental health cases.
As a business owner, mental health must be taken very seriously. Without effective support, a person's capacity to work productively will be affected. Alarmingly, 17 million working days were lost due to work-related stress, depression or anxiety in 2021/22.
Promoting a positive attitude to mental health has never been more important. We offer a range of Mental Health First Aid courses designed to provide learners with the knowledge to identify suspected mental health conditions, start a conversation and refer for professional help.
Our courses range from our half-a-day Level 1 course aiming to increase awareness around mental health to our 2-Day – Level 3 Award in Supervising First Aid for Mental Health, which covers in-depth aspects of mental health.
The importance of managing risks surrounding occupational lung disease
Occupational lung disease encompasses any respiratory disease which is caused or made worse by inhaling certain irritants in the workplace, such as dust, gases, fumes, and vapours. Types of occupational lung disease include COPD, lung cancer, asbestos-related lung disease and more.
Some substances increase the risk of lung disease. These include asbestos, silica, and diesel exhaust. People can be exposed to these through their work, particularly in working environments such as construction and material industries.
As an employer, you are legally obliged to protect your workforce. This includes the use of Respiratory Protective Equipment (RPE) and ensuring effective ventilation. COSHH (Control of Substances Hazardous to Health) 2002, legally requires you as an employer to control substances that are dangerous to health.
HSE statistics state that around 12,000 lung disease deaths each year are estimated to be linked to past exposures at work. It is time to take control of these workplace risks. At Advanced Safety Group, we are Fit2Fit approved and as such you can rest assured our testing procedures are of the highest standard and will enable you to meet your legal duties.
Our courses include Face Fit Training and Face Fit Testing of all tight-fitting RPE which include:
Disposable respirators/masks
Reusable cartridge half masks
Full face masks
Positive pressure full face masks
All staff successfully fitted will be issued with an official Advanced Safety Group Fit Record detailing all the data and mask types. This can be kept by your business to prove that an individual has been tested appropriately, in line with COSHH and HSE standards.
Are your workplace injuries controlled?
The workplace contains many hidden safety hazards which have the potential to cause accidental injuries to employees. It is your role to ensure the work environment is safe and that hazards are eliminated or prevented.
In 2021/22, 123 workers were involved in work-related accidents and a further 565,000 workers sustained non-fatal injuries.
Accidents in the workplace can have a huge impact on your business, affecting productivity, morale and reputation. HSE statistics indicate that non-fatal injuries resulted in 6 million lost working days according to self-reports in 2021/22.
Taking the right steps will put your business in the best position to be protected in a situation where accidents may occur. While it is impossible to guarantee that injuries will never occur in a workplace, there are many things you can do to reduce the risk of harm arising.
We offer a range of Health and Safety Training courses. Under the Health & Safety Act of 1974, it is a legal requirement for all companies to provide a safe and healthy workplace for their employees. Our courses will provide your team with fully regulated qualifications and help your business to comply with HSE and the law.
We also offer a range of Manual Handling Training courses. The Manual Handling Operations Regulations 1992 states that any staff member who is required to lift goods or manoeuvre objects needs to be properly trained in Manual Handling.
Our Level 2 Award in Manual Handling Principles & Practices will ensure that your staff know how to protect themselves and others, satisfying the requirements of HSE and the law.
It is important that you act now to improve health and safety within your workplace. Contact our team or enrol on one of our courses to ensure the safety of your staff is always a number one priority.